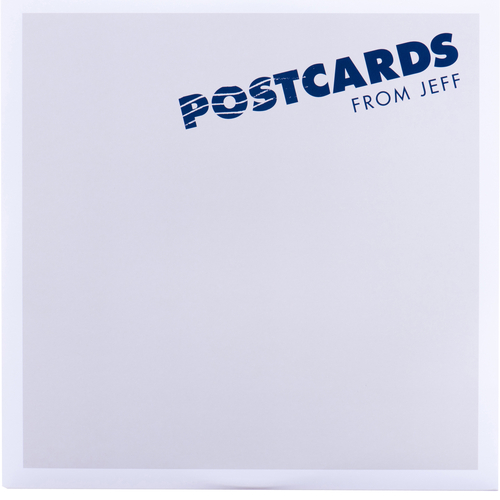 Postcards From Jeff
Available Formats
Tracks
Price
Buy
12" Vinyl EP
5 tracks

£

7.99

CD EP
5 tracks

£

4.99

Download EP (

WAV

)
5 tracks

£

4.95

Download EP (

MP3

)
5 tracks

£

4.95

Download individual tracks
From £0.99
Description
Postcards From Jeff - Postcards From Jeff
Reviews
A dreamy ride that gets inside of you in a good way. This is a new type of dreampop, folks. Get on board, take a journey.
(In Your Speakers)
Taking vast almost cinematic synth beds and layering them with indie melodies and a gentle and somewhat understated vocal, this is dreampop with expansiveness.
(I Love Pie)
A Brooding Indie Pop masterclass. (Fecking Deadly)
There's something that feels so pure when it comes to this work, whether it's the simple honesty of the lyrics or the orchestral effect of memorable drums, guitars and synths. The music video for "A House" echoes his attempts of bringing reality into broad daylight, through both the natural joy and sadness built into everyday lives.
(On Smash)
Postcards from Jeff's self-titled debut EP is a thing of beauty, underpinned by cinematic pop soundscapes and the wonderful voice of singer Joss Worthington.Worthington's voice seems strangely familiar yet entirely unique at the same time. Skilfully put together and masterfully executed, it is symbolic of this release as a whole. (One Album A Week)
Somewhere poetry meets pop, electronica and folk dosado, film and reality collide and Postcards From Jeff takes all these inspirations and weaves them into new stories, new songs, new roads. (Strawberry Tongue)
Postcards From Jeff brings the tensions between town and country just a little bit closer together on the melodic vocal pop claustrophobia of, "A House," of his self-titled debut EP. Working class Springsteen-ian ballads with a UK heart. (IMPOSE)
Tracklisting
12" Vinyl EP (AB001)
Postcards From Jeff

- A House

Postcards From Jeff

- Veronica

Postcards From Jeff

- Agoraphobic House Party

Postcards From Jeff

- Weekends

Postcards From Jeff

- Awake
CD EP (AB001CD)
Postcards From Jeff

- A House

Postcards From Jeff

- Veronica

Postcards From Jeff

- Agoraphobic House Party

Postcards From Jeff

- Weekends

Postcards From Jeff

- Awake
Download EP (AB001D)